Sunday Art Therapy is all about finding respite from your stress and troubles by letting go of your left brain and embracing the right brain, letting all of that frustration out on paper and letting the creative process bring you fresh ideas and a connection to something bigger than yourself. Once you get in the habit of doing this, you just might find that you really enjoy it and that your creative pieces are telling a story much like a diary or journal.
This is true art, and if you want to be even more inspired, I suggest that you check out the Dirty Footprints Studio's
21 Secrets: An Art Journal Playground
. Connie Hozvicka has gathered so many great artists to provide you with videos, downloads, and mp3's to show you how to connect to your inner artist.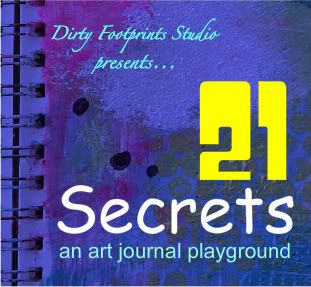 I'm especially excited to see Connie's class called "Get it out:Get it Down". I often have trouble getting what is in my head onto paper. I sometimes feel like my creative ideas far out shine my actual artistic abilities. Connie is going to show us how to be fearless and create our own masterpieces.
Dawn Sokol from D'Blogala will also teach how to use all those old hotel room keys, expired credit cards and insurance cards as tools and embellishments. And, Lisa Wilson of Life Unity will be teaching us just how to begin art journaling. Sometimes getting over that hump of looking at the blank page is the hardest thing. I know your creative juices will flow like rivers after watching her.
So, don't hesitate. All 21 on-line classes are available for only $59 and registration begins Monday, Sept 20.
So, it's that time again. Show off what you've done this week. I have been very busy creating but have not had a chance to get the pictures uploaded. Be on the lookout for them this coming week.
Here are the submissions to the Art Therapy Flickr group.
Submit your creations to the Flickr group and/or add your link to the party below. Can't wait to see what you've been up to!
---
This linky list is now closed.